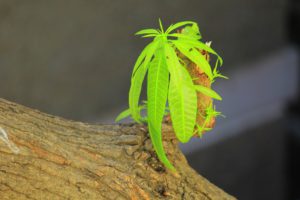 Continued from Part 1/3…
After few days, I saw these fresh leaves spring out from what seemed to be a dead branch. It was very surprising…if you look very closely, you can also see some ants on it. A tree is just not a single entity, but a huge system, which provides to many. Similarly, in our life also, we are called to provide…but in tough situations, we tend to forget that and focus only on our problems and the wait. We have a bigger God, who is bigger than all of our biggest problems!!.
But what God says is – Psalm 62:5 – Yes, my soul, find rest in God; my hope comes from Him (NIV). Our hope is always in Him and only Him. So, in any situation, hope is only in Him. 
Don't worry, God has got a plan and His plan will prevali. Amen. When I saw this (the new leaves), it was a revival for me and in faith, I wrote down the statement of what I was looking for, a change, in the midst of the pandemic. It was a very bold statement, but I wrote it down in prayer and committed to the Lord. Psalm 37:5 –Commit your way to the Lord, Trust also in Him, And He shall bring it to pass (NKJV). And I kept praying about it. With focus on God and looking up to Him alone. 
When you feel you have hit rock bottom in your life and nothing more exists in life, there is only 1 way, to come up and hence, look up to God and He will pull you up, place you on a rock and give a song to sing!!.
It is not that always God will do what we want, becos, He knows what is best for us and when to give the best, just commit your ways to Him. God always has the best for us. This was a time of building up my faith like the fresh leaves. Faith can be summarised like this – FAITH – Forgetting All I Trust in Him – yes, we need to forget our situation, forget the impossibilities and trust in Him.
Something was definitely working inside the tree, from an impossible, worn our situation to life springing up….
While I was getting built up in my faith, covid 2nd wave struck a very young ex-team member of mine passed away, just couldn't believe it, still. And after few months, I lost my father, not to covid, but to long illness. It was shattering. Yes, the situations weren't looking like springing up to life, but commiting my life to Him, I was waiting in faith. Yes, God was working in springing up new life, like in this tree branch.
To be Continued…..Part 3/3