My father was a Government Training Officer and my mother a Housewife i.e., Homemaker. I have 3 sisters and 2 brothers – I'm the last child in the family.
My father was very staunch in religious rituals. However, he was affected by Stroke and had to resign his job. Thereafter, things turned upside down in my family. We incurred huge debts and we were unable to make ends meet – which affected our day-to-day living.
So, my family started running a Tea Stall and I managed to help my family while doing my schooling. During this period of time, I heard about the Lord Jesus and started believing in Him. I also started going to church regularly – to worship Him and to know Him more.
By God's grace, I completed my +2 (higher secondary school education) and got 69% marks. After this, to apply for Engineering Entrance examination; Since I did not have Rs.400/-, I did not inform my parents about my interest of writing Entrance Examination.
Later, I met my cricket team friend on the playground and he told me about the Polytechnic course. So, I went to the Polytechnic College and enquired about the course. They asked me Rs.21,000/-.  So, I told them that I would come immediately with my parents. On my way home, I decided to join a Tea Stall as a Tea Maker so that I could earn Rs.150/- as pay for a 12-hour job in overnight market at Tirunelveli.
During this period of time,  one Friday I prayed to the Lord saying, "If it is Your will, please give me a seat in the Polytechnic College and let me join directly in the second year." No one knew this prayer I made – except me and my Lord.
The next day, during the Youth Fellowship Meeting in our church, prayer requests were being collected. So, I narrated my prayer request. My church Pastor who heard my prayer request from the kitchen said, "We could go on Monday to the Polytechnic College."  He also said that his brother was working in the same place where the college is situated.
By His grace,  the Lord gave me a direct Second Year seat for Diploma in Computer Technology in that Polytechnic College. I had to pay about Rs.13,000/- as  fee, but someone came and paid the first semester fees for me. In the meantime, my father got education loan for the rest of my studies.
On first day of my college, the Lecturer came and said,  "Note down the First experiment for Lab. Characteristics of Silicon Diode." Using my limited English knowledge I attempted to spell and write…"Ch…" that's all! I could not write further as I did not know the spelling.
Troubled, I came home and prayed to God for His mercy and wisdom.
My studies continued and the final year exam results came. Even I couldn't believe the marks I got – as told by my friend, over the phone. So, I went to the college to check whether results had come correct or not. By His grace, God gave me FIRST PLACE in the entire college. God also helped me to get DISTRICT FIRST PLACE with 100% marks in a tough paper. All over Tamilnadu – among a total of 1.5 lakhs students – I was ranked as the 28th with an overall 97% (having lost 17 marks).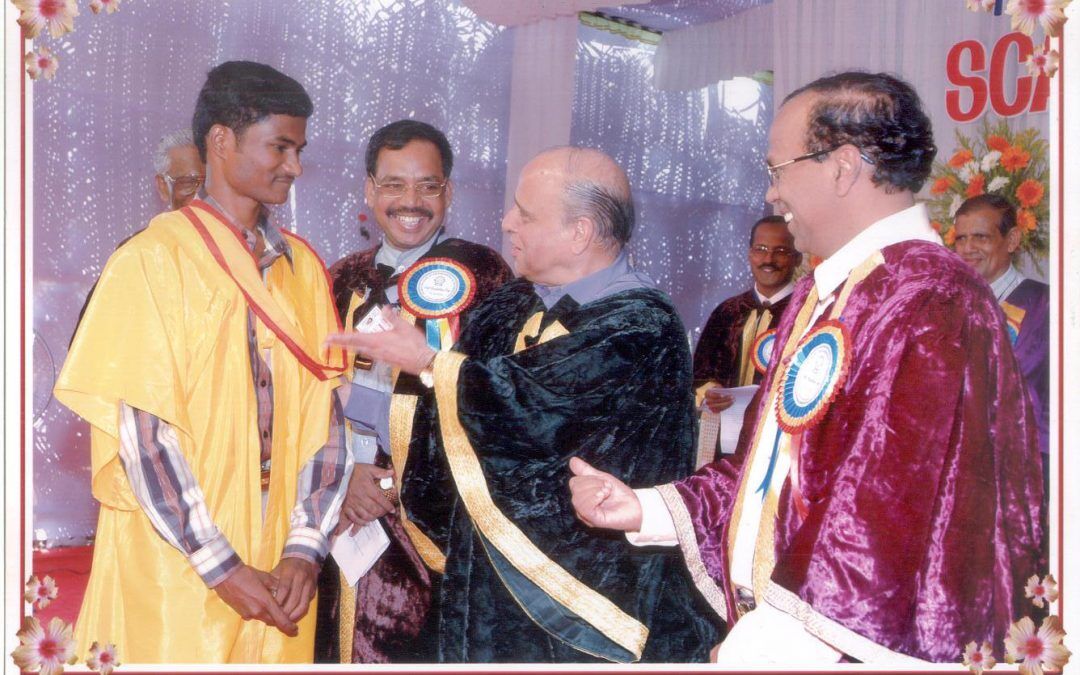 The Lord helped me to get a B.E. seat as well. During this time, financial situation in my family was very bad. Sometimes I did not have even Rs.8/- to go and come back from college. So, I used to wait in the bus stand to see the bus in which my friend comes and will request him to get a ticket for me.
Though I studied under Anna University syllabus, during the entire period of my engineering studies; I never purchased even a single book. Only Xerox copies or notes taken during class hours, group studies and notes from Lecturers were the books for me. The Lord was so good to me and blessed me to get two gold medals in my Engineering College.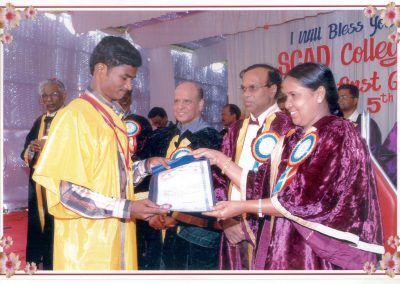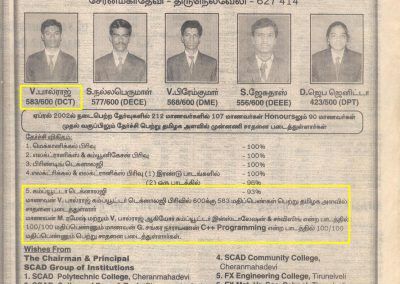 In the meantime, my father was admitted in the Government Hospital . The Doctor called me and said, "Your father will live only up to 48 hours. So, prepare the last rites for him." My mother and I decided to immediately discharge him and took my father to Church and prayed for God's mercy. God heard our prayers and saved my father. He is now accepted the Lord Jesus as his saviour and is still living in this world for His glory.
Subsequently, I started my career with a salary of Rs.1,500/-. God lifted me up step-by-step and now I am working in a US based MNC IT Company for the past 4 years. I, along with my wife and daughter, am living in the USA. This is purely the mercy of the Lord. After my VISA processing, I have been promoted to the next-level, which is again a Miracle from God to me who ensures that "All things are possible with God".
I cannot not stop crying simply – when I remember my past. The Lord is good and His mercy endures forever and ever. He takes care of everything for us.
Now, I believe the Bible verse in my Internet Messenger note, "The lions may grow weak and hungry, but those who seek the LORD lack no good. Psalms 34:10" is TRUE to the best of my knowledge.
I humbly give ALL the Glory to The Lord and Saviour Jesus Christ….
---
This is a personal testimony of an IT professional who is hailing from Tirunelveli, India and currently works for a US based Tier 1 IT company.