…He who watches over you will not slumber; indeed, He who watches over Israel will neither slumber nor sleep. (Psalm 121:3, 4)
  As the mountains surround Jerusalem, so the LORD surrounds His people from this time forth and forever.(Psalm 125:2)
Hi all,
Last weekend, we had gone for a two day trip to Kodaikanal. I was accompanied by my sister and the family of my Aunty, from Chennai.  Since we did not get train or bus tickets, we had to take our Tata Sumo. We had a great time in the hill station.
On our way back, we met with an accident! We were about 400 kilometers before Chennai. We were traveling at about 90 kilometers per hour; when the Sumo flipped onto one side and hit against a Railway Gate. All of us came out of the vehicle alive and without any injury. All Glory to God! What should have been a major accident turned out to be like a Roller-Coaster ride for all of us.
If we had crashed 1000 times, 999 times at least; one of us should have died! But thank God for His arms of cushion that was around us. He was with us; like how He was with Daniel and his friends in the fiery furnace! Only when I came out and heard people ask me questions like, 'Did anyone survive?' and "What God do you serve?" did I realize that it was God and only God who held us together when we crashed!!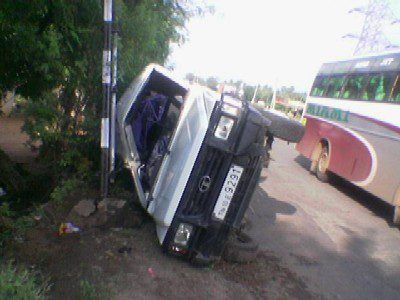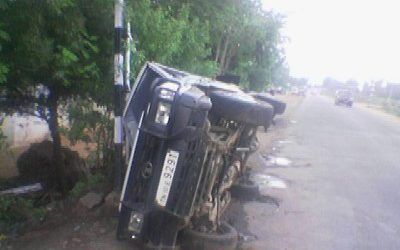 So many verses came to my mind, which made a lot of sense to me; like the ones I put on the top – "He never slumbers nor sleeps" and "The Lord surrounds His people like the mountains of Jerusalem"…
I realized that our life here on earth is so fragile and uncertain like what the Holy Bible says "Like a breath" "flower of the field".  I do not know how many of us wake up everyday and are actually grateful for every second that we live, for the 101 times we travel by our vehicles and yet come home safe! 'Never take life for granted' is what I learnt and I'm grateful for every breath that He allows me to take.
I also realized that He has put all of us here because we have not yet finished the task He has given us! That is why He did not want me home so soon.
Anyway, all six of us have been given yet another life. I just want to thank God for his amazing love!
There is no place more secure than my Father's arms…how true….
Love
Subin.
16th November, 2006