Greetings in the Name of Our Lord and Savior Jesus Christ. I am Daniel and I would like to share how God miraculously led me through the path of pain and suffering over the last few months. It is His pure Grace that I am living today with full strength.
It all started on 09th January 2014, when I had severe headache with vomiting and double vision in my left eye. I was rushed to the hospital and was diagnosed with a tumor under the brain and just above the skull base pressing many vital nerves.
The tumor was 2.7*2.7*2.5 cms big. The tumor was pressing my optic nerve and it was also agonizingly close to the artery (Vein from heart – Blood supply to brain) that connected the left portion of the brain. It was also pressing the pituitary gland. If not treated it would have led to loss of vision, left side complete paralysis or even death.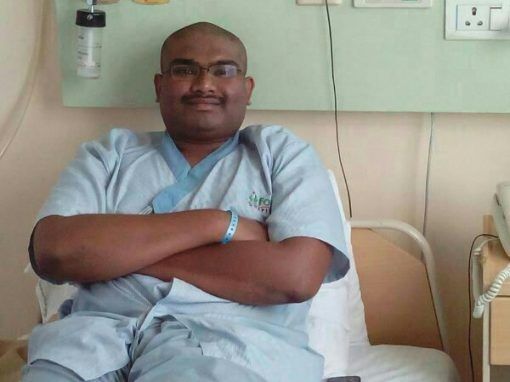 Before Neuro Surgery Operation
I had to undergo an open skull Neurosurgery to decompress the artery by removing the tumor. The tumor couldn't be removed completely because of its location. On 21st of January 2014, I underwent a 6 hours complicated, critical and high risk surgery at Fortis Hospital, Bangalore. My skull was opened and had 50 stitches in my head.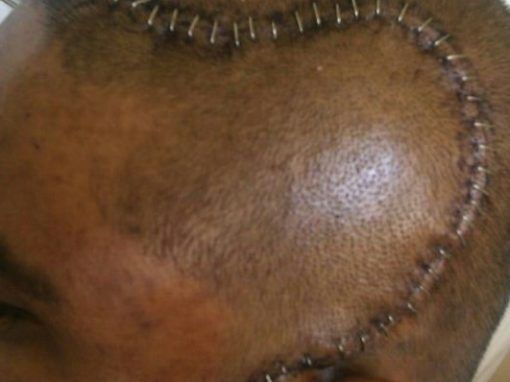 50 Stitches after the operation
God strengthened me to face these tough situations. His strength was made perfect in my weakness. My family was totally shaken and shattered. My wife Aarthy was pregnant for 8 months and we couldn't share much detail to her as we were expecting a baby very soon. God healed me so I returned back to normal condition very faster than expected. The Doctors and the nursed were amazed at my healing. I walked from bed the next day of my surgery. I was discharged on the 3rd day from my surgery. All glory to Jesus Christ.
After the surgery was done the removed tumor was sent for Biopsy and was found locally malignant and the results were told to us exactly on my birthday 31st of January 2014. I was asked to undergo radiation treatment by Dr. Chandran Gnanamuthu, Neurologist and Dr. Praharaj Singh S, Neurosurgeon.
I got admitted in BGS Global Hospitals, Bangalore. From the 10th of February 2014 to the 16th of February 2014 I underwent a radiation treatment of very high dosage of radiations for six fractions. Dr. Mathangi, Oncologist treated me. The equipment in which I was given treatment was called as Cyber Knife which emits X-rays and Cobalt rays. These rays are focused on the tumor from 200 directions. The tumor is burnt using these rays.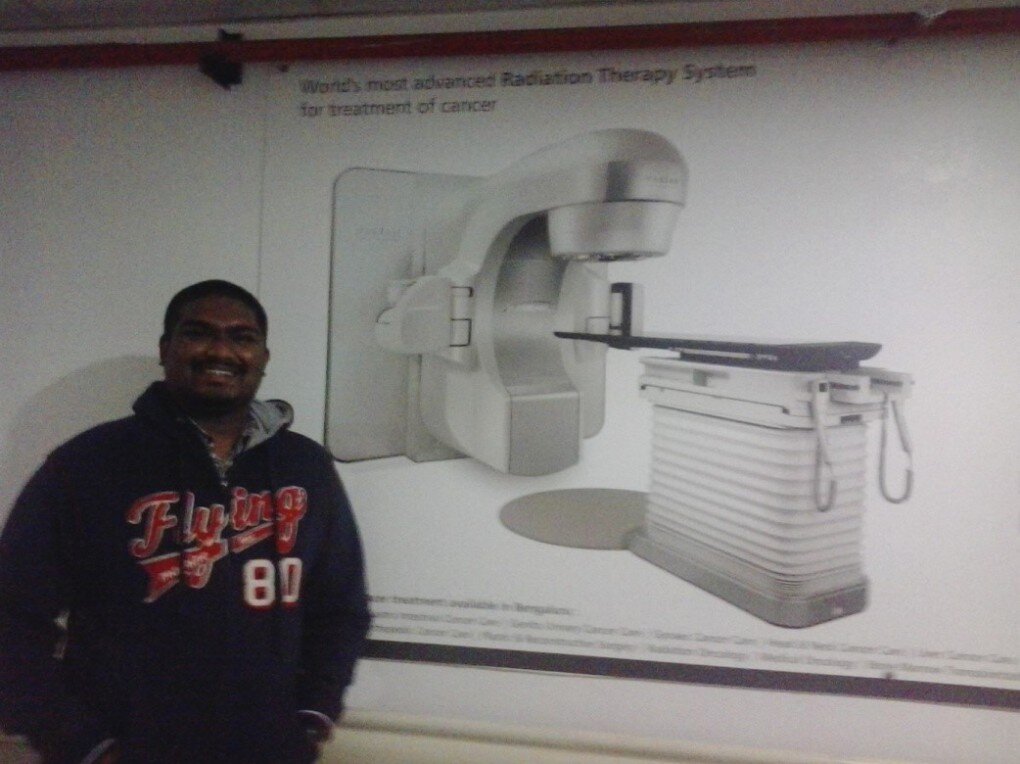 With Cyber Knife instrument poster
According to Malachi 4:2 – But for you who revere my name, the sun of righteousness will rise with healing in its rays. And you will go out and frolic like well-fed calves. The Lord rose as Righteous sun over me. I believe that the rays came from Him and He healed me.
After the treatment was over Dr. Mathangi told us that I was the first patient to cooperate so well and undergo this "Radio Surgery" successfully. All glory to Jesus. All the Doctors who treated me felt the hand of God with me. Dr. Chandran Gnanamuthu told "All praises to God". Dr. Praharaj Singh S was so excited and shook my hands for 5 times and told me 3 times "It is God's grace". Dr. Paneerselvam my family Doctor told me "God is with you". All glory to God that the world felt His presence through me. All the Doctors were amazed to see me so normal. My medicines were reduced rapidly. And during the First Check Up I was told I was completely normal. Also Dr. Praharaj Singh S told "The tumor is Benign – Non Cancerous".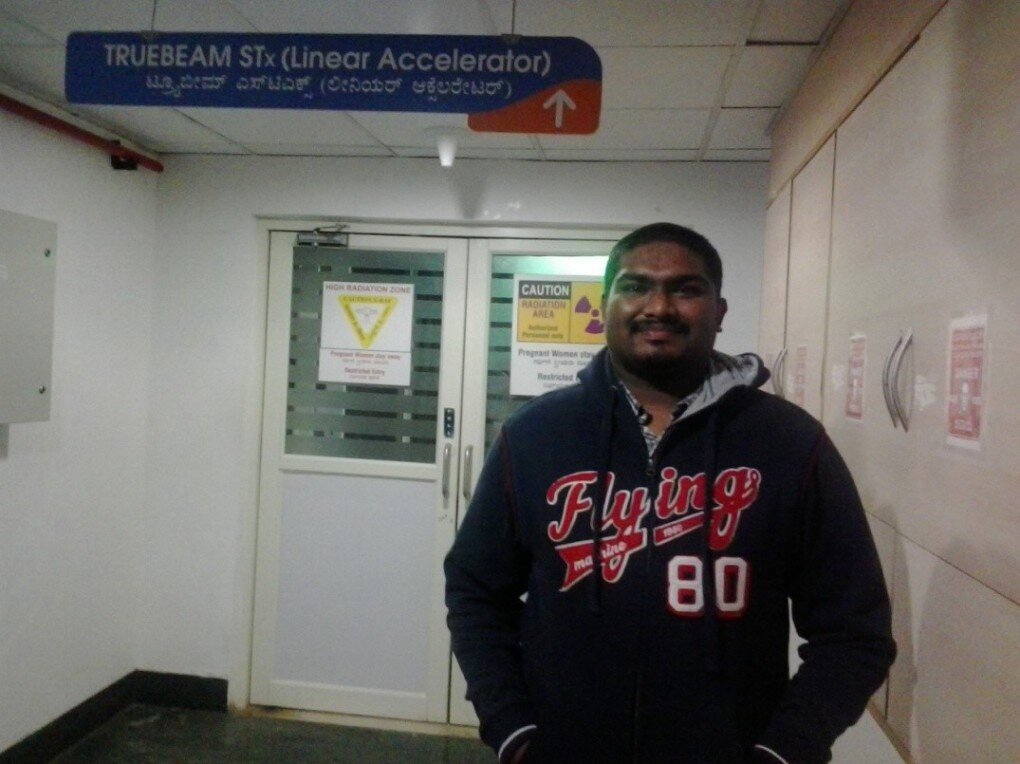 Outside the Radiation Room
I give all glory to Jesus who was with me and healed me. I believe the 2 months of January and February 2014 was a wonderful experience with God. He has blessed me and my dear wife Aarthy with a Boy baby – Benjamin on 25thof February 2014. All Glory, Honor and Praise are unto Jesus Christ".
"No Doctors No Medicines No Huge Equipment or Instruments But Jesus Heals"
I would like to encourage my fellow brothers and sisters in Christ that no matter what happens in our lives, nothing is impossible with Our God.
A big Thank you to all the loved ones and dear ones who prayed fervently for me and the entire God sent angels who helped us. God bless you all!!!
Daniel works in a Tier 1 IT MNC in Chennai